Oba Amsterdam
In Amsterdam you have the famous places which all the tourists visit, and you have places where less tourists go to, although they are also very nice to see! In my opinion the central building of Oba (public library Amsterdam) is one of them. It is located nearby Central Station on Oosterdokeiland. It is surrounded by cafes and lies alongside the river. Oba is special for many reasons. It not only contains a large book collection, but it has actually lots of surprising other features. In this blog I tell you why you should visit it!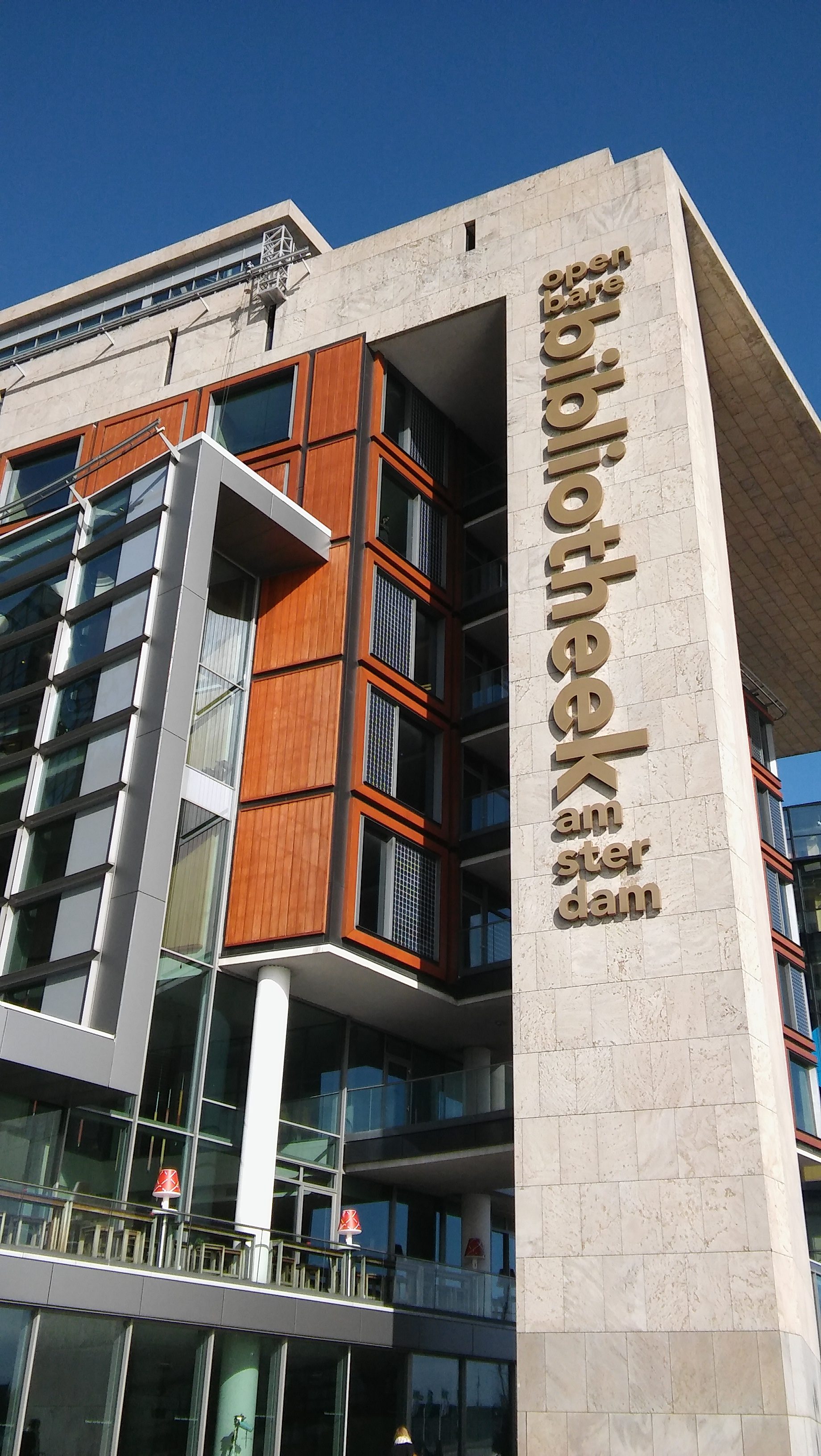 1.The building itself
The architecture of the library building is very interesting. Designed by architect Jo Coenen the building has large open spaces and is designed as a meeting point. It is opened in 2007 and untill 2013 it was the largest library of Europe with its 28.000 m2. Still it is the largest library of the Netherlands! In 2008 Jo Coenen won a prize for its sustainable design. You are allowed to visit even not being a member of the library, and next to books you will immediately experience the space this libary has. But there's more!

2.Expositions
Throughout the year a diversity of free expositions are organized. Mostly they have a connection with the city of Amsterdam, but sometimes they are about a totally different subject. At the website of Oba you can find which exposition takes place during the time you visit Amsterdam.

3.The view
While you are visiting Amsterdam this might be interesting to you: if you go to the 6th or 7th floor of Oba you can enjoy a very nice panoramic view of the city, and this is also free! It is at the 7th level of the building where you can visit the outdoor terrace for a nice view of the city. From the information boards you can learn more about the buildings you will see in front of you.

4.Restaurant, theatre and general area
I already mentioned there are restaurants and cafes around Oba, but also in the library you can find a restaurant and a cafe! The cafe you can find on the ground floor, the restaurant is located on the seventh floor. Further the library contains a theatre, also on the 7th floor, which is really like a hidden feature! It has 250 places and the program of this theatre you can find on the website of Oba, or ask for at the groundfloor at the information desk.
5.Book collection
Last but not least, a library contains books! Oba has a broad collection of around 800.000 books and audiovisual media. It includes a couple of special collections and also a large amount of books in other languages. Further the library has a range of international newspapers on the ground floor, and also if you are not a member of the library you can take a seat for a moment to read them. In any case, Oba is very interesting to visit, for these reasons, but for maybe even more. It's up to you to experience!
Want to share this blog on Pinterest? Great! You can pin this image:

https://citiesnstories.com/wp-content/uploads/2017/04/IMG_1594-e1491569470703.jpg
3264
1840
janine reso
http://citiesnstories.com/wp-content/uploads/2021/08/Cities-n-stories.png
janine reso
2017-04-07 15:50:13
2019-03-06 22:35:36
5x reasons to visit Oba: the library of Amsterdam.