The Amsterdam Lookout
Nowadays you can add a new 'highlight to visit' on your list for your visit to Amsterdam: it is a large tower with a great view over the city! It is called the Amsterdam Lookout. The tower was opened earlier this year, and already for quite some time people were walking by wondering what it would contain! In this blog I share with you my experience and provide you all the practical information you need!

What does it contain?
What it contains is a restaurant on the top floor with a spectaculair city view, an elevator to the top floor with special effects (that is why I mention the elevator, it's special!), a giftshop, a multi media experience of the city on the panoramic deck, but of course you want to go to the roof itself! This is the most special feature: the so-called 360º Sky deck gives you an even better view of the city. No worries, it has strong high fences, which contain little open spaces from where you can take your pictures. For the real thrill seekers an attraction called 'Over the Edge' is added to the rooftop since this summer. It's a swing that literally swings over the edge of the building, and actually it is also the highest swing of Europe!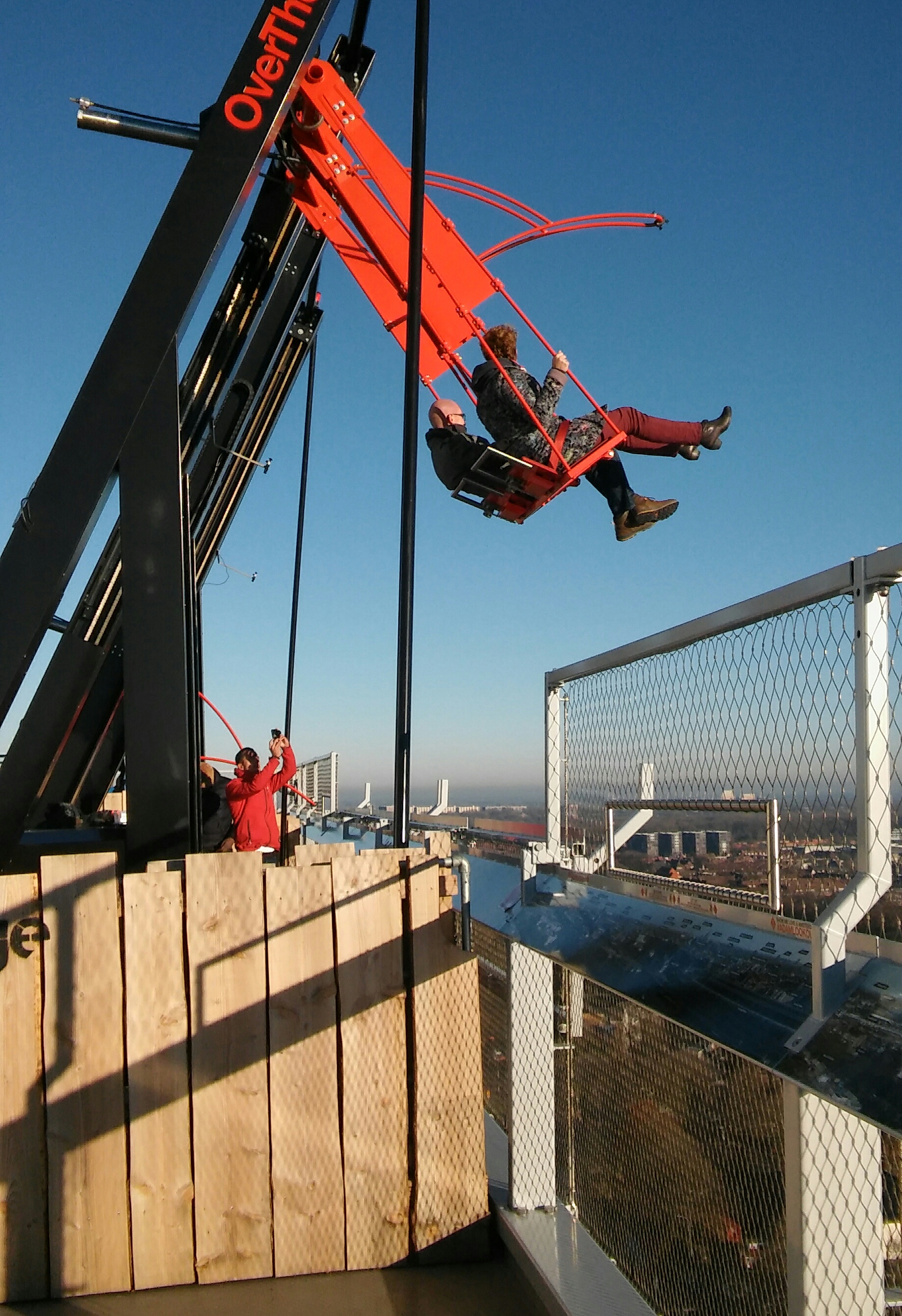 My experience
Last weekend it was freezing and sunny in Amsterdam. We considered it a perfect day for a day out, and I was curious for the city view, so we went to the Amsterdam Lookout! Downstairs after the tickets selling point you are invited for a 'special effect' picture which you can take after your visit with you for free. Then you are invited to step into the elevator to the top floor. This is also filled with special effects and goes fast: you don't even have the time to consider if you are afraid of heights or not! The rooftop itself is brilliant: you have a fantastic look al over the city, and the rooftop is large enough to contain a lot of people. We didn't attend the swing though. It is for people who are real thrill seekers, brrrr!

Where is this tower and where can I find more information?
The Amsterdam Lookout is easy to find: it is located just on the other side of the Amsterdam Central Station than the city center side. If you walk through the train station, you will find a river on the other side. You can cross this river with a ferry boat which goes to the Eye film museum. The Eye is actually located next to the Amsterdam Lookout and is also very interesting to visit! You can read more about the Eye and this side of Amsterdam in one of my former blog posts. The ferries are free and go around every five minutes. On the website of Amsterdam Lookout you can find all practical information such as opening times and ticket information.